I grew up near San Jose and, in the evenings, every street corner downtown was filled with carts selling freshly made Danger Dogs. These are street hot dogs, wrapped in fried bacon with bell and jalapeno peppers and onions cooked in bacon fat. Allegedly originating in Tijuana, these simple hot dogs have one of the most enticing smells ever created by mankind and are so mouthwatering that it is difficult to eat just one. You really should just eat one though – they are astonishingly unhealthy but so tasty it's worth it.
Ingredients:
4 beef hot dogs
4 long slices of bacon
4 split hot dog buns
1 sliced white onion
1 sliced red bell pepper
1 sliced small jalapeno pepper
2 tablespoons of vegetable oil
Pinch of salt
Pinch of pepper
A squeeze of Orange Sauce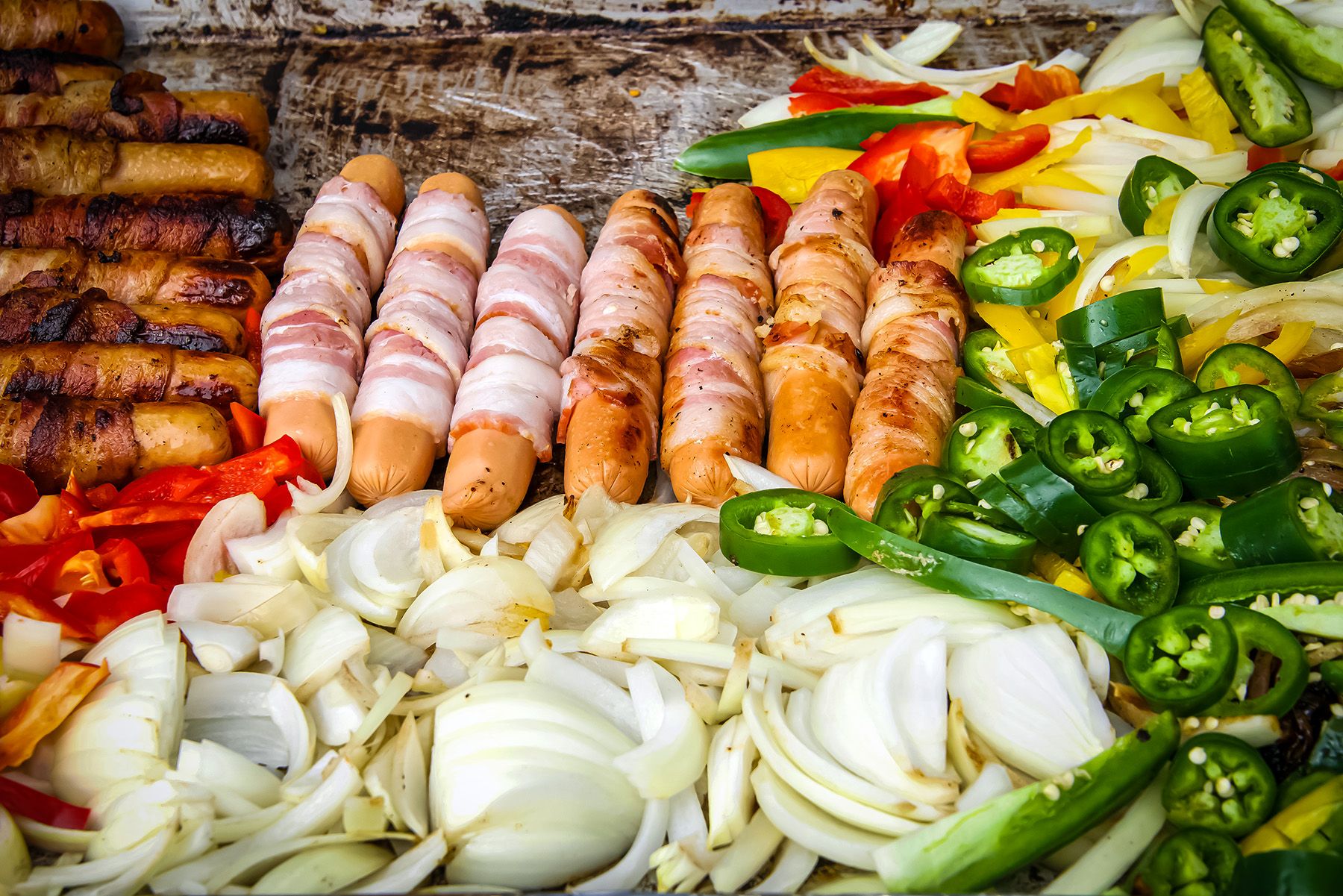 Instructions:
Start by chopping your veggies into thin strips and removing the seeds from your peppers.
Wrap your hot dogs with bacon and throw them in a pan over medium-high heat with the vegetable oil.
After a bit of fat has cooked out of the bacon, add your onions to the pan, cooking for a minute or two, then add the peppers.
Once one part of the bacon-wrapped dogs has cooked through fairly well, it becomes increasingly likely that your bacon will not unravel.
After you've achieved a solid fried line to keep everything in place, spin your hot dogs with tongs to evenly cook the bacon.
Crispy bacon is the goal here, overcooking in parts is preferable to undercooked bacon. It is surprisingly challenging to evenly cook a spiral of bacon, even if you've been cooking bacon your entire life.
Once you have the bare beginnings of a char on your vegetables, throw the hot dog buns in the pan to toast.
Finish spinning your bacon-wrapped hot dog on the pan and get ready to assemble your Danger Dog.
Put the dog on the bun, cover with peppers and onions, add a pinch of salt and pepper, and give a healthy squeeze of orange sauce and eat as fast as you can.
Don't eat more than three to yourself or you will learn a valuable lesson about the limits of human food consumption.