New York Deli Pastrami
The secret ingredients in most home cooking are time and love, and this is true of authentic pastrami. If bought in a supermarket, pastrami is often dull and uninspiring, but when prepared by a deli that truly cares about the meat, it is one of the finest dining experiences you can ever enjoy. Pastrami is a brined, smoked, and spiced meat, resulting in a unique texture and flavor experience that must be eaten to be believed. The secret spices that bring out the character of the meat are a mixture of paprika, coriander, and black pepper, infused into the meat over time while it brines.
Our recipe for pastrami is modified to be made at home in an oven, but do keep in mind this is a lengthy process. This recipe has multiple steps and will take over 5 days to complete, so make sure you go into this with the proper expectations. Even if you only do this once in your life, it will be a novel experience that you will think about every time you enjoy a pastrami sandwich.
Ingredients:
Brine:
2 ¼ cups of kosher salt
3 quarts of water
1 cup of sugar
½ cup of brown sugar
¼ cup of honey
1 tablespoon of allspice
¼ teaspoon of crushed red pepper
½ teaspoon of finely minced garlic
1 tablespoon of curing salt
Rub:
4 teaspoons of coriander seeds
4 teaspoons of yellow mustard seeds
¼ cup of ground coriander
4 tablespoons of ground black pepper
3 tablespoons of paprika
You will need a large pot full of water to prepare the brine (you won't be cooking the meat in this pot if you are worried about space). Note that New York has especially pH neutral tap water, and if you don't know how basic or acidic your water is, you can run it through a filter to be safe. Add your salt, sugars, honey, and spices to the water and bring to a boil, stirring occasionally. You'll want to make sure that the sugars and salts are fully dissolved before removing from heat.
Once the pot has cooled down a bit, you will need to cool the brine in a refrigerator until it is room temperature. While this is taking place, we can prepare the meat. Trim most of the fat from the meat, making sure to leave a small edge of fat. Find a container that can hold both the meat and the brine together, keeping in mind that we want to fully cover the meat with brine. If necessary, cut the meat into thinner portions so you can guarantee a good soak. You'll let it soak for five days in the refrigerator, flipping the meat once a day to allow the brine to completely cure the meat.
After five days, the real fun begins. Be aware that this part of the cooking process will take around five to six hours. You'll need an oven for this portion, as well as a large pan filled with about four cups of water and hopefully a roasting rack. If you don't have a roasting rack, any metal that can hold the meat above some water in the pan will do, even rolled up aluminum foil.
Remove the meat from the brine and pour out your brine so we can fill the pot or bag with clean water. Take the brined meat and let it soak in the clean water for about an hour or so, then replace the water and let it soak for about another hour. This step is important; if you skip it your pastrami will be quite salty. Apply your rub vigorously to the exterior of the meat, applying extra to the fatty sides.
Let your meat come to room temperature by waiting for about an hour and a half, then preheat your oven to 300° F. Place the meat on your roasting rack with the water below and then wrap the entire assembly in aluminum foil, twice. Let the meat cook for about 4 hours, perhaps a little less if you've cut the meat into smaller portions. You'll know you're done when the meat temperature reaches around 200° F. Remove from the oven, and get ready to make a sandwich.
The Sandwich
Pastrami sandwiches aren't just delicious, they are a testament to what is possible to consume in one sitting. The best pastrami sandwiches are generously overstuffed with meat and have as few ingredients as possible. It's against the rules of most iconic Jewish delis to request mayonnaise on your sandwich, so do be careful with that if you order one in person. First, we will go over the standard pastrami, then we will explore its much more famous cousin – the Reuben.
Standard Pastrami Sandwich
16 oz (1 lb) of pastrami
2 slices of rye bread
1 tablespoon of mustard
1 sliced pickle (optional and, if included, on the side)
Instructions:
This sandwich doesn't really need instructions. If you like mustard a lot, put it on the bottom slice of bread. If you like it less, put it on the top slice. This is meant to be a mountain, so arguably the instructions ought to be for how to eat it as opposed to make it. If it helps, fatty pastrami has roughly 50 calories per oz, for a whopping 1000 calories in the sandwich as a whole.
The Reuben
The standard pastrami is for the purists, but the Reuben is for everyone else. We will design this recipe around a single sandwich, but do be aware Reubens are best enjoyed with company. If you followed our recipe for pastrami, you'll likely also have an unreasonable quantity of hot meat, which is as good a reason as any for a party. This sandwich is remarkably balanced, and would likely qualify as some sort of a melt if the meat weren't so iconic to its overall identity.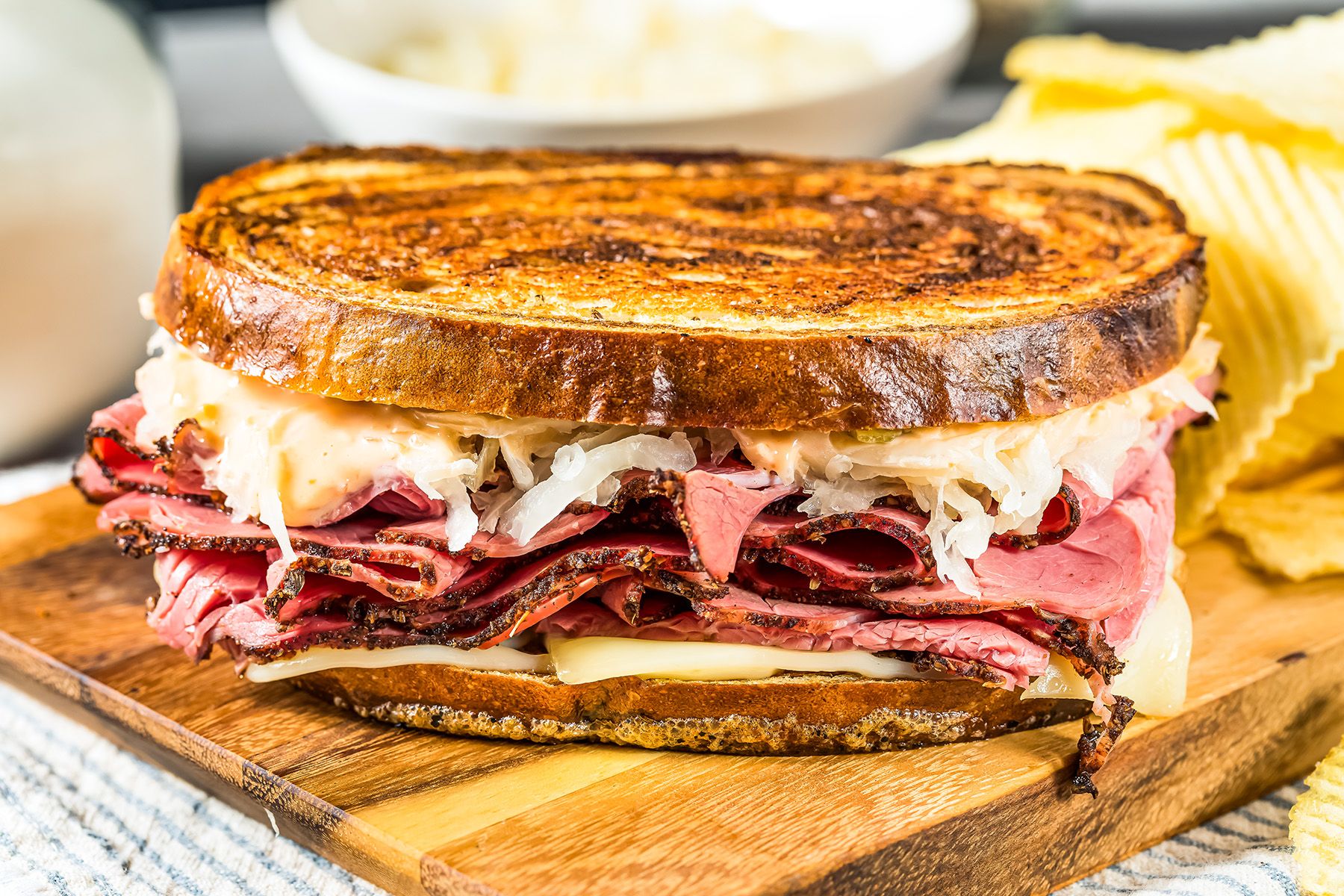 Ingredients:
4 ounces of pastrami
2 slices of rye bread
¼ cup of drained sauerkraut
2 slices of swiss cheese
2 tablespoons of Russian dressing
3 tablespoons of butter
Instructions:
This is a hot sandwich, with the bread and meat grilled in a pan with lots of butter. Make sure to butter both sides of your bread, to make sure they get a lovely golden color. Use your hot pan to quickly raise the temperature of the pastrami without overcooking and drying it out. I recommend starting on high heat with both bread and meat in the pan, removing the meat after about 30 seconds, and then set the heat to low. Set the meat aside while you toast both sides of each slice of bread, then add your Russian dressing and sauerkraut to one slice and your cheese to another. Place the meat on the cheesy bread slice and cover the pan for two to three minutes.
Combine the two halves and make sure the bread is well toasted on both sides, cooking covered for an additional two to three minutes. Press the bread together with your spatula to ensure a solid sandwich and to make sure the ingredients evenly spread themselves throughout. Remove from heat, cut along the diagonal, and enjoy.