The vital aspect of any burger is, of course, the beef. Many chefs will create blends of different cuts of beef, such as half ground chuck, a quarter sirloin, and a quarter short rib. For a standard burger, we will focus on a single beef style – the 80/20 chuck.
This is a 20% fat content hamburger, which is highly versatile and can be cooked on a grill, smoker, pan, or even in the oven. As a general rule, make your patties with clean edges to avoid patty cracking, and be aware that beef shrinks when cooked. Making the patty about an inch wider than your bun should result in an ideal size. Also avoid compressing the beef when forming patties, though poking a wide and deep indent in the middle of the patty should result in an evenly cooked burger. A touch of salt and pepper mixed into your meat is also a fantastic idea. The final patties ought to be no more than ½ inch thick, more than this will require specialized heating techniques.
Prep Time: 20 minutes
Cook Time: 12 minutes
Total Time: 32 minutes
Ingredients:
1 pound of 80/20 chuck ground beef
1 teaspoon of steak dry rub
2 tablespoons of ranch powder
Pinch of salt
Pinch of ground black pepper
3 split medium-soft white hamburger buns
3 slices of Cheddar cheese
3 teaspoons of mayonnaise
½ cup of leafy iceberg lettuce
12 small circular slices of dill pickles
3 large slices from the middle of a fresh tomato (note: If you choose to add tomato, don't add onions)
3 large slices from the middle of a white onion (note: If you choose to add onion, don't add tomato)
A squeeze of ketchup (optional)
A squeeze of mustard (optional)
1 beer (optional)
Instructions:
Grilling: Let's grill these burgers, over charcoal if you've got it. The ideal distance is about 5-6 inches away from the coals; you want to work with a medium-hot temperature. Form three patties from one pound of meat and gently mix in the dry rub, ranch powder, salt, and pepper.Avoid squeezing the meat at all costs, and touch it as little as you possibly can. Press a dimple in the middle for even cooking, and form the edges of the patties so they are smooth, to avoid cracking. They even make metal "cookie cutters" for burgers to provide a clean edge, which is possibly one of the only "single-use kitchen gadgets" that you can justify in your kitchen.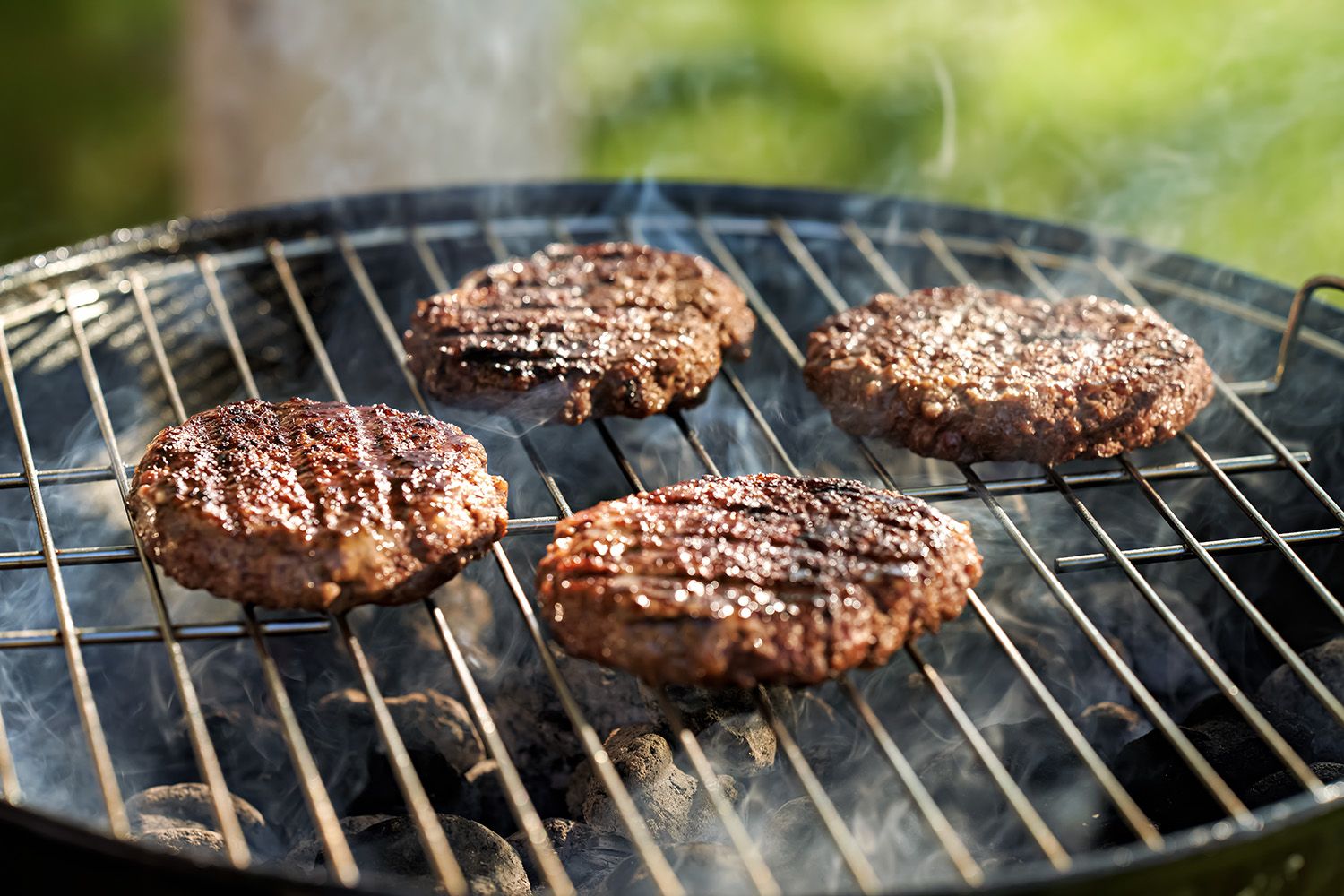 Cooking Time: Grill the burgers for about five to six minutes per side, making sure to cover while they are cooking.There is a tendency among amateur chefs to constantly flip and hassle beef while it's cooking. If you fall into this category and simply must do something while you're grilling, open up the recommended beer and drink it while standing next to the grill. If you're like most average Americans, it should take you about ten minutes to drink a beer so, when you've drunk half, it's time to flip. When you finish, the burgers are just about done.
This isn't just a silly addition to the recipe, ritual and experience contribute to the enjoyment of your burger as much as the ingredients themselves. An average burger cooked at a barbecue on a sunny day with friends and family can be just as appetizing as a top-notch burger cooked at home alone.
Post-cooking: When you've finished with the burgers, let them rest and release some of their juices on a rack or lightly crumpled aluminum foil.
Assembly:
Final Stack: Bottom Bun - Mayonnaise Layer - Beef Patty - Cheese - Pickles (Optional) - Tomato or Onion - Lettuce - Pickles (Optional) - Sauce - Top Bun.
Bottom Bun: A common problem with burgers is a soggy bottom bun. We can lightly toast the buns on the grill to give a little extra structure but, more importantly, we will spread a teaspoon of mayonnaise on the bottom bun to create an oil layer, blocking the juices from soaking in.
Cheese: Throwing cheese onto the cooking patty on the grill works, but it also melts the cheese so much that it literally seeps over the edges and into the burger. Consider your cheese choice and method for melting.
Vegetables: Next, add your pickles, tomatoes or onions, and lettuce.
Top Bun: Toasted and with any additional sauces or condiments added.
Enjoy! Combine your sandwich and enjoy with a side of fries and an ice-cold beer or cola of your choosing for a truly American experience.