Elvis was a true American icon, right down to his sandwiches. He was a fan of overindulgence, down-home cooking, and crazy adventures, which is a large part of how this sandwich came to be associated with The King.
The story goes that Elvis was on his Graceland property, drinking with Captain Jerry Kennedy, a Denver native. Alcohol had been consumed, tales were told, and somehow the Fool's Gold Loaf from the Colorado Mine Company in Denver became the focus of the conversation.
The original sandwich contained the following:
Ingredients:
1 loaf of French bread
1 jar of blueberry preserves
1 jar of peanut butter
1 pound of bacon
Generous helpings of margarine
Elvis wanted to eat one so badly that the whole group hopped on his private jet and flew to Denver. The owner of the Colorado Mine Company came to meet them at the airport with 22 sandwiches in tow. A fantastic and spontaneous party was thrown and everyone present devoured the sandwiches, washing them down with bottles of Dom Perignon from the plane. Sadly, since then the Colorado Mine Company has closed, but the chef who prepared those legendary 22 sandwiches is alive today and used to serve them at his own restaurant; Nicks Café.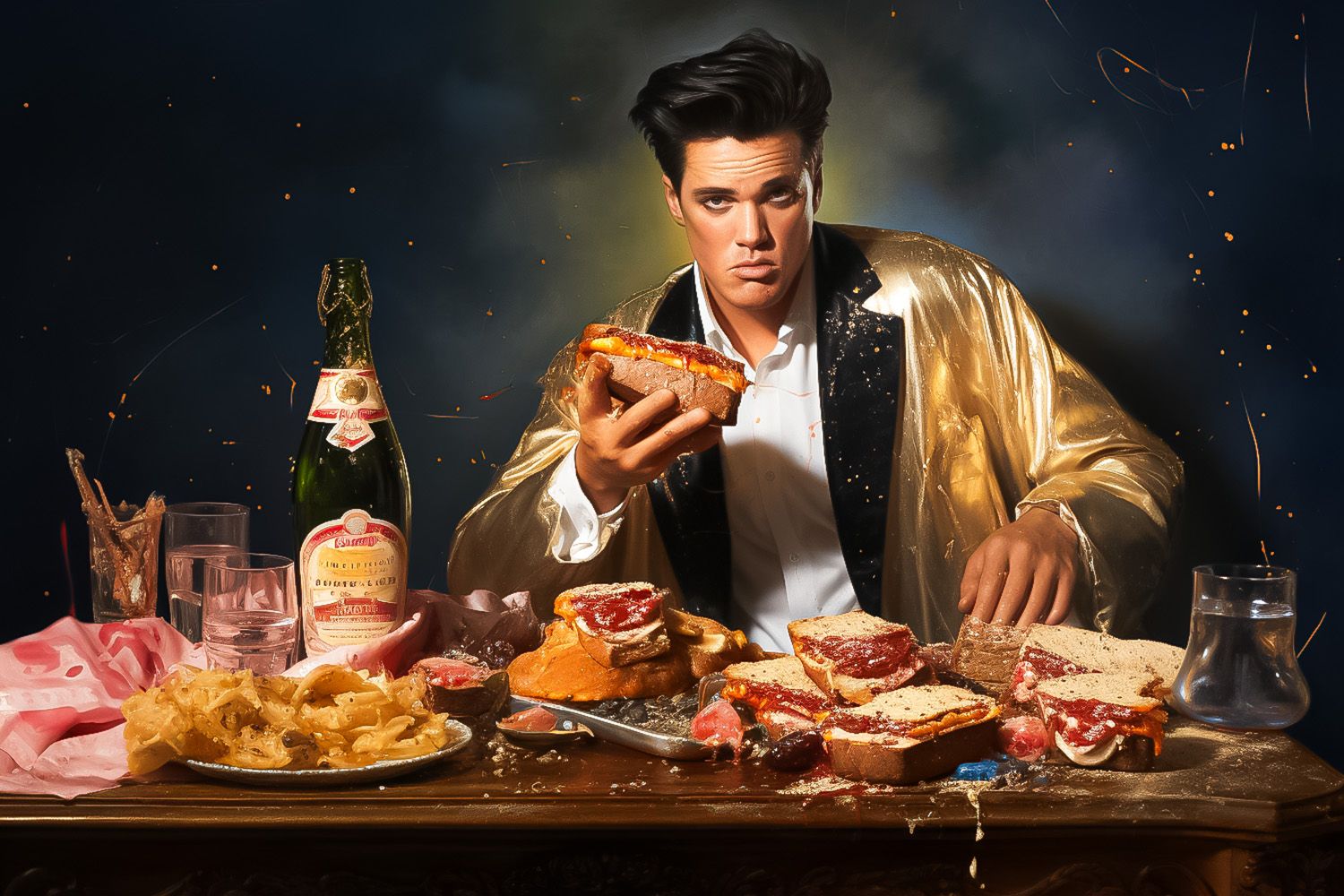 No sandwich is perfect, however, and following this historically significant sandwich event, it is said that Elvis put his own touch on the sandwich.
Here's my proposal for the Elvis Sandwich:
Prep Time: 15 minutes
Cook Time: 10 minutes
Total Time: 25 minutes
One Sandwich Ingredients:
2 cups (16 oz) of peanut butter, crunchy
1 cup and 3 tablespoons (9.5 oz) of blueberry preserves
1 lb (16 oz) pack of bacon, fried
3 bananas, sliced
1 large French baguette
Honey Butter:
3 oz of room temperature butter (¾ stick)
4 teaspoons of honey
Pinch of salt
Optional: 1 Bottle of Dom Perignon
Instructions:
Start with the honey butter. Mix room temperature butter, honey, and salt well with a fork. Set aside.
Cut the entire loaf of French bread lengthwise. Apply honey butter to both halves and toast in the oven until it just begins to brown.
While the bread is toasting, fry the bacon to your desired level of crispiness.
Spread the preserves onto the top half of bread and the peanut butter onto the lower half.
Slice the bananas and place them onto the preserves side. Add bacon to the peanut butter side.
Place the sandwich into the warm oven to raise its temperature but avoid liquifying the peanut butter.
Serve with a glass of champagne.
Note: It's recommended to enjoy this meal with friends. Eating an entire sandwich is best reserved for competitive eaters and gluttons.