The falafel sandwich wrap is crunchy, juicy, and packed with Mediterranean flavors. You can use pita bread for this recipe and make it a pocket instead, but honestly, lavash or a tortilla works just as well, if not better for this sandwich. The freshness of the ingredients is what makes this sandwich, so make sure to use firm cucumbers and extra leafy greens. We will also go over how to make falafel from scratch, though you can buy pre-made falafel and cook in an air fryer with considerably less effort involved.
Homemade Falafel
This recipe makes about 30 falafels, which is enough for about six falafel wraps. If you don't need that many, the uncooked mixture will freeze or refrigerate. Also, a food processor is necessary for this recipe, it can be incredibly time-consuming to try this without one. You will need to soak the chickpeas in water overnight, so do this the night before making the recipe.
Ingredients:
2 cups of dried chickpeas
½ teaspoon of baking soda
½ cup of chopped parsley
½ cup of chopped cilantro
¼ cup of chopped dill
¼ cup of chopped white onion
8 chopped cloves of garlic
1 tablespoon of ground cumin
1 tablespoon of ground coriander
1 tablespoon of ground black pepper
1 tablespoon of flour
Pinch of cayenne
Pinch of cardamom
Pinch of salt
Vegetable oil for Frying
Right before Cooking:
1 teaspoon of baking powder
Instructions:
One day ahead of falafel preparation, soak your dried chickpeas and baking soda in a bowl, filled with water to fully cover the chickpeas. The chickpeas will expand a bit when they absorb water, so make sure there is enough to cover them even when they are a bit larger.
Drain the chickpeas with a colander and dry them with a towel. Prepare your herbs by removing the stems, as we only will want to add the leaves to the food processor. Chop your garlic and onion and then add to the food processor with the chickpeas, herbs, and spices but don't add the baking powder quite yet. Pulse the food processor for a minute at a time, making sure the falafel is well-formed and extremely well mixed. Remove from the food processor and put in a bowl and refrigerate, covered, for an hour or so.
Take your falafel out of the fridge, mix in the baking powder, and stir roughly with a spoon. Form fairly thin patties, roughly a ½ inch thick and little over 1 inch wide. If you push a thumbprint into each one, they will cook more evenly. Heat your oil to medium-high, around 350° F. Using a slotted ladle or a metal spatula, place the patties in the oil for about four minutes until crispy and brown on the outside. Don't dump all the patties in at once, try to do six at a time at most, unless you are a very experienced falafel maker.
Place the finished falafel on a plate with a few layers of paper towels on top to dry. Now we can move onto the rest of the wrap!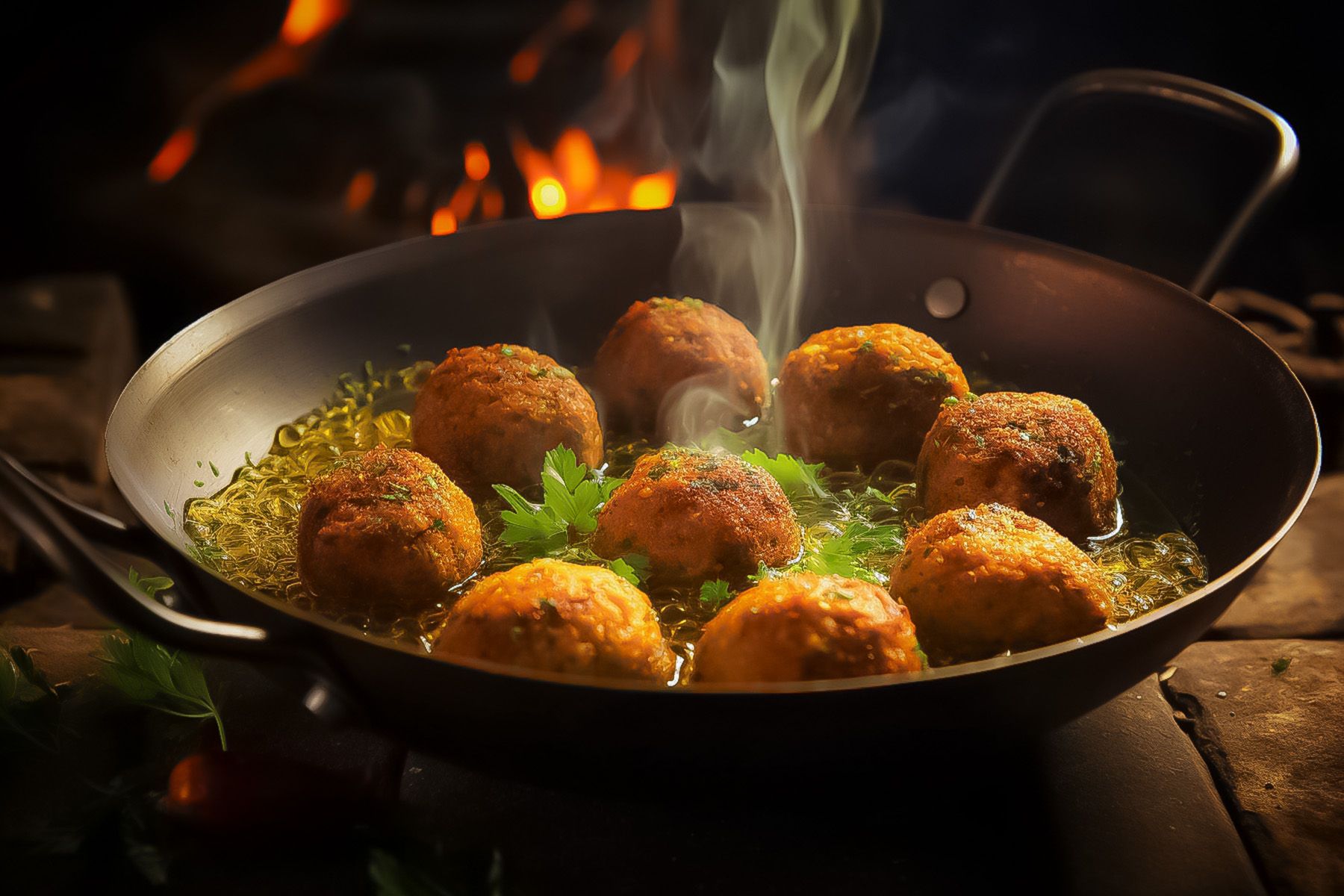 Rest of the Sandwiches:
Ingredients:
6 large pieces of lavash or when unavailable flour tortillas
¾ cup of hummus
1 large diced tomato
3 tablespoons of chopped pickles
1 ½ cups of chopped cucumbers
1 chopped large white onion
1 ½ cup of chopped romaine hearts
A squeeze of Sriracha or other red pepper sauce
A squeeze of tahini sauce
A teaspoon of olive oil
Instructions:
Make sure your falafel is still warm before starting this recipe. This is a fast sandwich to prepare, so let's get all of the vegetables fully prepared and then rapidly assemble everything. Dice the tomatoes, cucumbers, and pickles into roughly quarter-inch pieces. Slice the onions about twice that size and shred the romaine hearts. Take your lavash and spread the hummus along a line through the middle. Cover the hummus line with falafel, cucumbers, onions, and tomatoes, and give a squeeze of sriracha and tahini along the veggie line.
Cover your veggies with romaine hearts and push down to lightly flatten the falafel and then tightly wrap the lavash, similar to how you would a burrito. In a pan, drizzle your olive oil over the wrap and, over high heat, very lightly fry the outside of your wrap. The goal here is to seal the wrap and add some texture, but not to cook the inside of the wrap. When finished, cut the wrap in half and eat while the falafel is still warm.