The breakfast burrito is a special subset of burritos that essentially converts a simple omelet into something you can eat with your hands on the go. The finest breakfast burritos often have the fewest ingredients and can be a touch drier than a normal burrito. The flavor profile for a breakfast burrito is usually balanced by spiced potatoes, though a light squeeze of an orange sauce can also work. This recipe makes one burrito, but strongly consider making more, as these are tasty and people around you will certainly try to steal bites.
Prep Time: 15 minutes
Cook Time: 25 minutes
Total Time: 40 minutes
Ingredients:
½ cup of diced hash brown potatoes
¼ cup of shredded Cheddar cheese
1 tablespoon of Mexican Super Spice
Half teaspoon of thyme
2 tablespoons of vegetable oil
3 slices of bacon
1 Slice of Ham
2 Sausage Links
2 eggs
1 tablespoon of Half and Half
1 tablespoon of sour cream
A squeeze of Orange Sauce
1 large flour tortilla
2 tablespoons of butter
Instructions:
Order of operations is very important for this recipe, as it will allow you to properly layer flavors at home in the same way a restaurant does. Start with the hash browns, as they take considerably longer to cook than you'd expect. In a pan, heat your oil. If you are using frozen hash browns, microwave them for 30-45 seconds to break up any large chunks of potato.
Usually, I don't recommend frozen ingredients, but in the case of hash browns, it's much simpler to prepare and, if we have an opportunity to save some time before our first coffee, that is ideal. Add the super spice and cook on medium-high heat, covered, for about 6 minutes, flipping the potatoes occasionally.
Once the hash browns are close to done, cook your bacon in the same pan. This allows the potatoes to soak up the fat from the bacon, and the bacon coat in some of the spice. You can also add the ham and the sausage at this time. Cook the meats over the same heat for about 6 minutes, then push your bacon and potatoes to the side of your pan, and lower the heat to medium-low.
Scramble your eggs, mixing with half and half and a pinch of salt and pepper. Cook your eggs in the now quite crowded pan. Once the eggs are still a touch runny, take everything out of the pan and put on a plate so you can make room for your tortilla.
Lightly toast both sides of the tortilla, then carefully put your bacon, potatoes, and eggs in a line down the middle. Add your cheese, a squeeze of orange sauce, and your sour cream in a line as well, and heat covered for 1 minute. Remove from the pan and fold your burrito together, edges closest to the line first, then the far edges, for a tight wrap. Place the assembled burrito back in the pan with a touch of butter, and fry on both sides until a golden brown.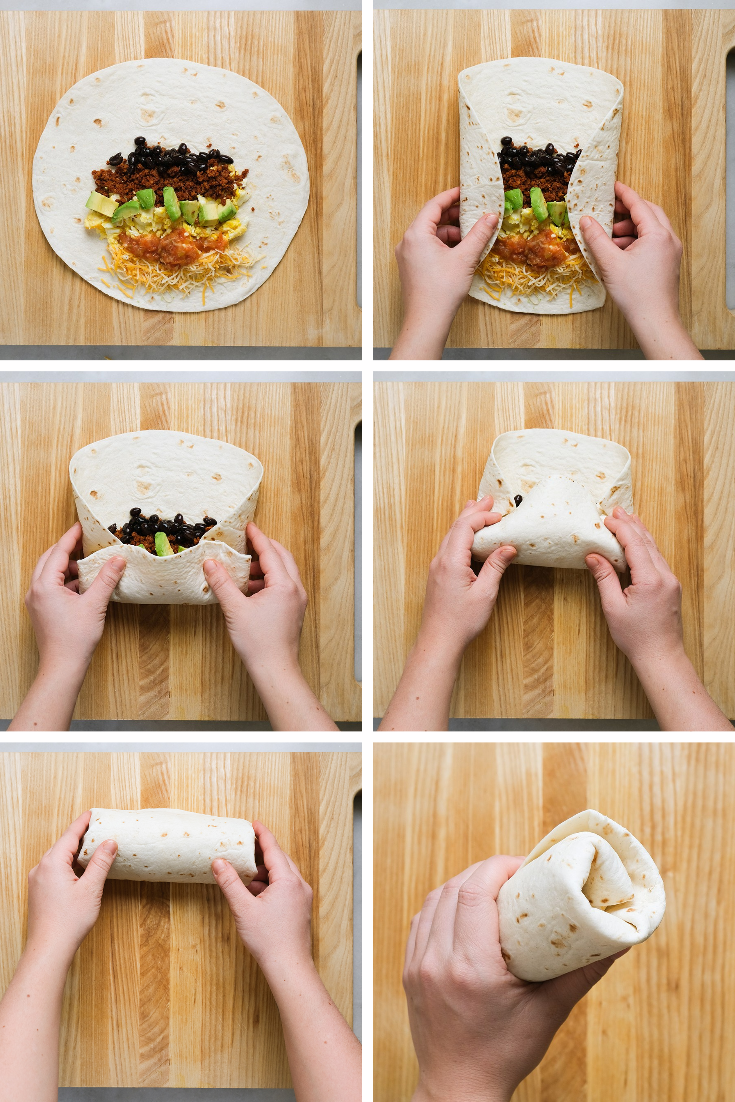 Then proceed to eat your burrito and contemplate making a second.