One of the most interesting developments in the rise of sandwiches has been the spread of regional favorites. Around the world, local flavors and food preparation styles have found their way into the sandwich, creating distinct identities that become popular worldwide. Some examples we will dive into here are Philadelphia with the Philly Cheesesteak, Vietnam with the Banh Mi, and the United Kingdom with the Egg Salad Tea Sandwich. This is by no means a comprehensive list, but hopefully, the deep dives into the context of these sandwiches will inspire you to check out your local options.
Philadelphia
The Philly Cheesesteak rivalry between Geno's Steaks and Pat's King of Steaks is a legend told around the world. These two restaurants have different claims to the invention of the Cheesesteak, both serve incredibly similar products, and are across the street from one another.
Pat Olivieri's story begins with him operating a hot dog cart and getting tired of eating the same thing every day for lunch. One day, he stopped by a butcher and bought some chopped meat and proceeded to prepare it on his hot dog grill with onions the same way as he cooked his hot dogs. A taxi cab driver saw the sandwich and asked for one and the rest is history. Geno's origin story also features a hot dog grill and a box of steaks but reads more like a traditional rags-to-riches story. Regardless, both sandwiches are virtually the same and use the following recipe.
The recipe is fairly simple:
1 Amoroso Soft White Roll, sliced lengthwise
6 oz of thinly sliced Ribeye Steak, sliced as thin as possible
1.5 oz of Cheese Whiz
½ Onion sliced into thin strips
Mayonnaise for the bottom bun to prevent soggy bread
All of the ingredients except the cheese are meant to be cooked on a flat grill surface. After you finish cooking the onions and steak, as well as lightly toasting the bread, spray a healthy amount of Cheese Whiz on top and eat.
The recipe is an American classic and, while there are certainly better tasting cheesesteaks to be found, none have the romance and history of either Pat or Geno's. Regional recipes like this one serve as a starting point for people to innovate and develop their own tastes. We can now explore the intricacies of the Philly Cheesesteak and explore why it's so mouthwatering and what can be done to take it to the next level.
The main problem with the original Cheesesteak is that it is very heavy on fatty ingredients. It's tasty, but unbalanced, which allows us to easily improve it by adding an acid to the mix. Across the United States, many restaurants incorporate garlic or sliced bell peppers into their recipes, specifically to cut through the fat from the steak and cheese. This is one approach, though another would be to substitute the cheese for a sharper variety that still has great melting qualities, such as provolone or white cheddar. A third option would be to change the bread to a tart sourdough loaf, allowing the sour flavor to balance the fat.
What we discover as we make modifications to the original recipe, however, is exactly how restaurants like Pat and Geno's maintain their core identity. The imperfections and headstrong ingredient choices that they chose and stuck with work to distance their idea of a Cheesesteak from our creation. The more we tweak and adjust, the stronger their stance that they have created the true Cheesesteak and that ours is just an offshoot of their invention. This is very important to understand when looking at sandwich design because it serves to remind us of what the core ingredients are that define the overall finished sandwich. The concept of a source from which an entire family of sandwiches can be invented is important and we will go into it in more detail as we move onto the next region – Vietnam.
Vietnam
The banh mi sandwich was allegedly created by merging the French word for soft white bread – "pain de mie" – with the Vietnamese word banh which refers to pressed rice flour cakes. Banh mi sandwiches have a flavor profile and identity that is truly all their own. As long as a sandwich has cilantro, carrots, pickled daikon, sliced cucumber, spicy peppers, and some sort of protein, it can be understood to be a banh mi. If cilantro and pickled daikon are present, this is often enough to evoke the iconic flavor of the banh mi. They are common street food in Vietnam and are known for being incredibly affordable, even in the US where food prices can be much higher than in other countries. This is largely because the preparation and cost to produce a banh mi sandwich are very minimal, as the less expensive vegetable ingredients make up a large portion of the sandwich contents.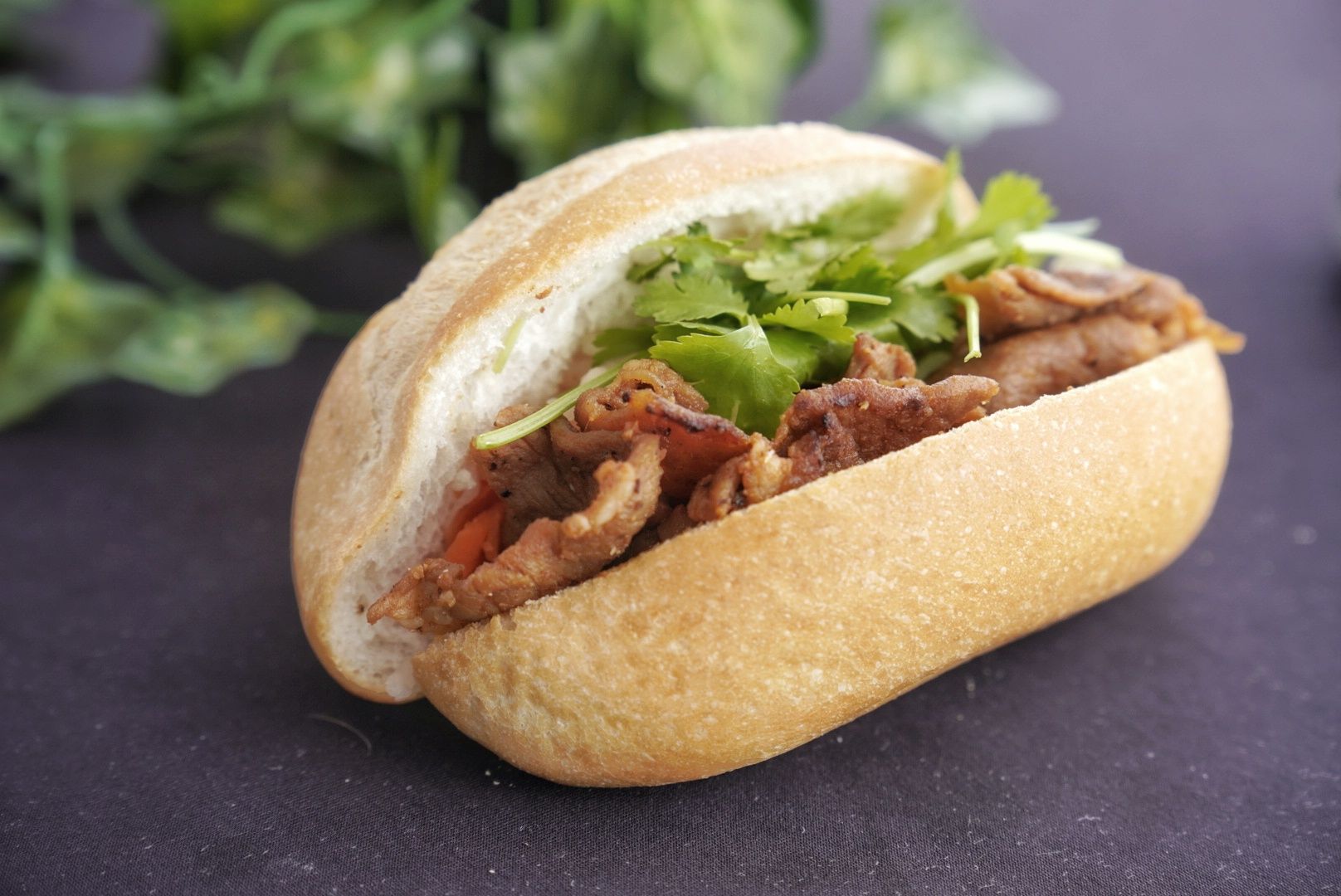 Where things start to get interesting with the banh mi is when we are selecting the protein to include. Banh mi can have shredded or barbecue pork, beef, meatballs, ham, grilled chicken, tofu, fried egg, fish, or pâté. This huge variation in protein options leads to the banh mi being one of the most open-ended sandwich recipes. Usually, sandwiches define their identity through their protein-based ingredients, as is the case with hamburgers, deli sandwiches, or grilled cheeses. As the banh mi is indifferent to protein, this allows it to merge its identity with virtually any sandwich.
Very few sandwiches have this capability, and the banh mi is the best-known among them. This passport to freely interact with other sandwiches means that merely by adding cilantro, jalapenos, and daikon to a sandwich with a strong identity such as a hamburger you create a hybrid Banh Mi Hamburger. Observing the banh mi in this way gives us insight into what really defines a sandwich: whether it's the collection of flavors, the style of preparation, or the specific ingredients, every sandwich has a core that sets it apart. By exploring that core and determining what makes it truly special, we are able to create better and more scrumptious sandwiches.
Before we move past the banh mi, let's take the time to explore why it's such an effective sandwich.
The best banh mi uses a fluffy white baguette, approximately 12 inches long. Most banh mi baguettes have a nice flaky crust, hard enough to feel, but not so sharp that you cut your mouth on it. The delicate and leafy cilantro provides a citrus tang, mixed with a slightly herbal flavor. When mixed with a crunchy and acidic pickled daikon and carrot, we have a trio of textures before we even get to the meat. Each of the flavors is also quite distinct, allowing for a high quantity of sensation per bite. Many banh mi in California will sprinkle a few slices of jalapeno peppers, seemingly at random, to add to the excitement and spice of the sandwich.
The finale to any banh mi – the protein – is arguably the most fascinating part. Most banh mi meats are soft and light, but very fatty. Interestingly enough, in the American diet, the banh mi is probably the most accessible and common time to try pâté. The soft and salty texture of pâté adds yet another level to a banh mi, though this is by no means the only meat to add. Lee's Sandwiches – an international banh mi brand – will combine pâté, jambon, pork roll, and head cheese for their Special Combination Banh Mi. Outside of a banh mi, this collection of meats might seem excessive, but when paired with the iconic veggies, we wind up with a delightful and unique set of mixed flavors and textures.
The United Kingdom
While the legend of John Montagu, the Earl of Sandwich has done quite a bit to add lore and intrigue to sandwiches, the story of how they gained status among the elite is just as interesting.
Afternoon tea has been a regular ritual among the British aristocracy since the 1800s, and today nearly every tea begins with a round of stylish sandwich miniatures. It's been said that in the early days of afternoon tea, simple cakes and sweets dominated the menu. However, when more men began to attend tea as it became a more mainstream British tradition, the menu was adjusted to "provide food of more substance", and sandwiches were the obvious solution.
Afternoon tea, as well as its more rustic cousin, high tea, have done extremely well at maintaining their position as a daytime ritual, even into modern times. A standard tea begins with a light meal, typically consisting of light sandwiches and other savory dishes to whet your appetite. The impact that tea has had on sandwich culture is difficult to quantify, as it introduced the notions of pop culture and gastronomy to an otherwise simple meal. The push for interesting and unique tastes and aromas by British high society accelerated sandwich innovation and inspired menus around the world.
Sandwich Menus from High-Class London Hotels
| The Ritz Carlton | The Savoy | Claridge's |
| --- | --- | --- |
| Ham with Grain Mustard Mayonnaise on Brioche Bread | Free Range Egg Salad, Wholegrain Mustard Mayonnaise on White Bread | Smoked Scottish salmon with brown shrimp, horseradish, juniper, and caraway on rye bread |
| Cheddar Cheese with Chutney on Tomato Bread | English Cucumber, Minted Goat's Cheese on Beetroot Bread | Norfolk chicken breast with gem lettuce, roasted corn, marjoram, and mayonnaise on malt bread |
| Cucumber with Cream Cheese, Dill, and Chives on Granary Bread | Chicken Coronation on Tomato Bread | Dorrington ham with caramelised apple, calvados and cinnamon butter, red endive on onion bread |
| Egg Mayonnaise with Chopped Shallots and Watercress on Brioche Roll | Oak Smoked Salmon with Creme Fraiche and Fennel Pollen on Lemon Brioche | Clarence Court duck egg with crisp shallot, mustard cress, and mayonnaise on white bread |
| Scottish Smoked Salmon with Lemon Butter on Sourdough Bread | Brown Shrimp, Celeriac Remoulade and Mary Rose Sauce on Charcoal Bread | English cucumber with lemon and watercress cream on white bread |
You may notice when browsing these menus that there are a few themes present in afternoon tea sandwiches that don't exist in most other varieties outside the United Kingdom. The first is the presence of a cucumber sandwich, which occurs in some form on every menu. Cucumber sandwiches are a light and delicate snack, meant to whet your hunger and kick off a larger meal. The second notable observation that is interesting is the level of detail and craftsmanship applied to the Egg Salad sandwich. Egg salad is mildly popular in the United States, but in the United Kingdom, it is considered a welcome favorite in any café or sandwich shop. The final common thread through most tea menus is the smoked salmon sandwich, a well-textured, fatty, and salty meal that can be perfectly balanced with a nice cream.
Cucumber Sandwich: Occurs in some form on every menu. A light and delicate snack.
Egg Salad Sandwich: Mildly popular in the US but a favorite in the UK.
Smoked Salmon Sandwich: Well-textured, fatty, and salty, often balanced with a nice cream.
The sandwiches present in afternoon tea menus are flavorful treats, heavy on fat, and each with a singular focus. The variation in ingredients allows for a tasting menu experience, reminiscent of a course of meals popular at fancy Michelin-starred restaurants. It should also be noted that these sandwiches are intended to be enjoyed alongside fairly strong tea, so the flavors really must be noteworthy. Also, after the sandwiches are finished, a rich and sweet dessert course follows, making up a solid portion of the meal.
Let's explore the unusually popular Egg Salad sandwich from the Ritz Carlton in-depth, as one of the iconic tea sandwiches. Egg Salad is a very fat-heavy mixture, and the Ritz' recipe tries to break up the fat with a mixture of vegetables, spice, acidic mustards, and lemon juice. The simple, fluffy white bread preferred for Egg Salad sandwiches also provides a textural contrast from the heavy egg mix. This sandwich is about the mouthfeel more than anything else.
To make one that really tastes how it ought to, you will need to quickly prep your own mayonnaise as the store-bought variety really won't cut it. If you really must avoid making mayonnaise, just use ¼ cup of the best variety you can find. We will design this scale around making approximately 6 sandwiches worth of filling, each of which can then be cut into thirds for a total of 18 pieces.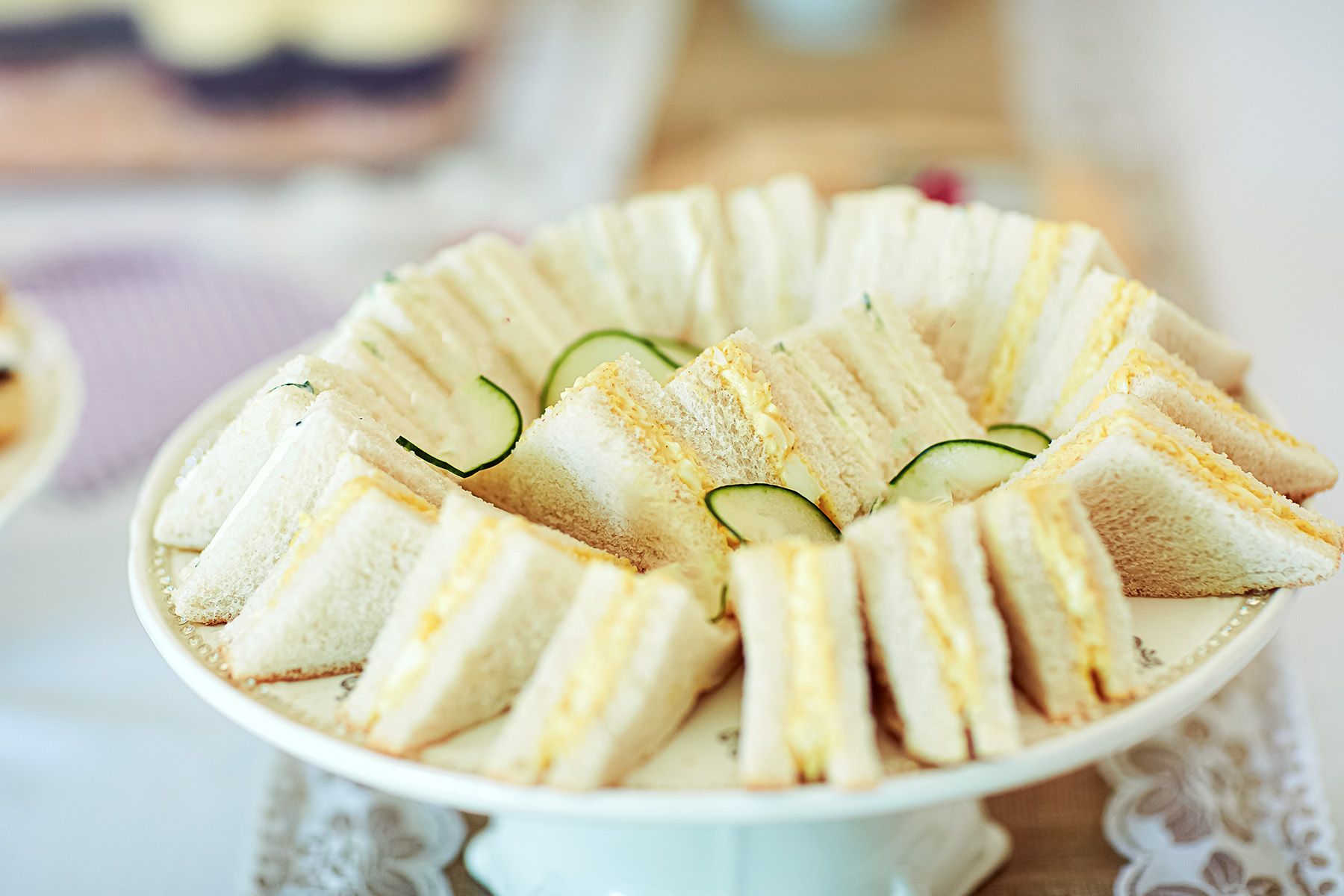 Making the Egg Salad Sandwich from The Ritz Carlton
Egg Salad is a fat-heavy mixture. The Ritz's recipe breaks up the fat with a mixture of vegetables, spice, acidic mustards, and lemon juice.
Rich Mayonnaise
Ingredients:
2 egg yolks
½ teaspoon of salt
½ teaspoon of white pepper
2 teaspoons of mustard powder
1 teaspoon of Worcestershire sauce
Note: Read instructions before adding these two below.
7 oz of extra-virgin olive oil
1 tablespoon lemon juice
Instructions:
For the mayonnaise, whisk the ingredients, then add olive oil a bit at a time to form an emulsion. Finally, add lemon juice.
Egg Salad
Ingredients:
5 hard-boiled eggs
1 tablespoon fresh chopped dill
¼ teaspoon hot paprika
2 tablespoons finely chopped shallots
2 tablespoons finely chopped watercress (or celery)
Your homemade mayonnaise (or ¼ cup of store-bought with some added ingredients)
Instructions:
Chop eggs and stir in mayonnaise.
Add dill, paprika, shallots, and watercress.
Optionally, adjust flavors with more paprika or sauces.
Butter bread, add egg mixture, and make finger sandwiches.
Chop up the hard-boiled eggs into small chunks and stir in the mayonnaise. Add your dill, paprika, shallots, and watercress, and mix well. If you're adventurous, you can now double the paprika, add another dash of Worcestershire sauce or even some hot sauce, otherwise, you're finished with the Egg Salad.
Pick a light fluffy white bread or brioche and lightly butter the inside. If you select a rectangular white bread, do take the time to remove the crusts. Add a generous helping of the egg mixture, and if you feel dainty, add a sprig of watercress. Then firmly press the top slice of buttered bread and cut it into thirds so you have finger sandwiches. This recipe should make about 6 sandwiches worth, provided you have used medium-sized bread, which should mean 18 finger sandwiches.
What is notable about this sandwich is that it is simple to prepare, but really provides a fun tea experience. If you were enjoying a full afternoon tea at a fancy London hotel, this would likely be one of the sandwiches you enjoy in the middle of your sandwich flight. If you're a normal person doing a fancy tea at home, you could make these sandwiches and a small batch of fruit scones to impress all of your friends with your aristocratic sensibilities. The timing involved in preparing the small bites as well as getting your teapot, cream, and everything ready, mixed with the subdued seriousness of the ritual does make for a fun memory of Britain a few hundred years ago. Try to imagine how revolutionary a sandwich must have been at that time and take the time to enjoy a pleasant afternoon with some company.